We are excited to announce that Ana María Baez is our first Guest Blogger for ambinity! We really hope you like it, so make sure you send her some love by sharing this posts or leaving her a message in the comments section.
It's no secret that becoming a lawyer isn't exactly a piece of cake. Pursuing a career in law requires the utmost commitment, responsibility, and perseverance. I can't pinpoint the exact moment that I decided to study law; it happened very organically. As I was doing my undergrad in Communications and Political Science, I was struggling to decide what to do after college. I knew I wanted to continue to grad school, but it wasn't until I took a class on law and the media in my junior year that made me realize how many of my interests aligned with becoming a lawyer!
As a current third-year law student, I won't lie: law school can be intense. But despite the difficulties and the ups & downs, I have found it to be rewarding in the most unexpected ways. However you come to the decision, if you're considering law school as a possible option for you, here are a few tips that were passed on to me, along with some of my own:

1. On selecting a school
Choosing where to study law depends on a various amount of factors. From the admission requirements to where it's located, every detail counts. Take into consideration your lifestyle, financial needs, and areas of interest. After all, if you're accepted, this will be your home for the next few years! Spend time developing your own criteria. I would recommend to make a list of schools and research their websites, and if possible, visit the campus you'd like to attend or contact them for more information and clarity.
2. Speaking of admission requirements…
Navigating the law school application process can be tricky, but preparing in advance will ease the stress of the process. Many schools in the United States and Puerto Rico require a test called the Law School Admissions Test, or 'LSAT'. The exam is divided into five 35-minute parts, testing reading comprehension and certain logic skills. While meeting the LSAT requirements is an important part of your application, take note of any other elements that may necessary towards your admissions, such as additional entrance exams, letters of recommendation or writing samples. Make sure you don't miss your deadline!
3. Cracking the LSAT
Whether you study alone or with friends, preparing for the LSAT is one the most vital steps in the law school application process. If you're a self-starter, there are many practice tests and review books are widely available. If you prefer studying in groups and need more guidance, companies like The Princeton Review dedicate themselves to providing tutoring sessions for a fee. In any case, it's recommended you study at least six weeks before the date of the exam, which is administered a few times per year and has a maximum score of 180. To familiarize yourself more with the requirements for the LSAT, check out their official website for the Law School Admissions Council.
Welcome to the madhouse! The first few weeks of law school will be a bit overwhelming: heavy course loads and long nights of reading lie ahead. However, those first few weeks are also a perfect time to explore and familiarize yourself with your school. From joining the law review to pro-bono activities, take note of any extracurricular that interests you. Another tip? Time to work on that résumé. Job fairs are usually held at one point during the semester, and if you want to score an internship early on, it's best to have your résumé ready to go. Studying will take up a lot of your time, so make sure you're organized from the beginning, and you won't miss out on important opportunities.
#CareerMode: ON
Going to law school is practically a full-time job on its own, and doesn't leave room for much else. However, if you find yourself working while attending law school, time management can definitely become a challenge. In my case, I've found that it all boils down to how I organize my tasks. By setting weekly goals instead of daily ones, I found that I wasn't under so much pressure if one thing didn't go exactly as planned. I'd suggest that if you find that your course load is too heavy, consider taking a night class if possible in order to shift your schedule, and make more room during the day. In terms of your job, be clear with your supervisors as to how much time you will be dedicating to your studies and to your responsibilities at work. Honesty is the best policy, even with you.


Find your balance
One of the biggest challenges I've faced so far is keeping a positive outlook in law school. One can become so immersed in the day-to-day stress of your studies, it's easy to forget: you're allowed to have a life. Many times you'll have to say 'no' to going out or being with friends and loved ones. Even so, I've learned that it's of vital importance to be realistic about the number of hours you study each week. Even though you'll probably be studying more than you've had to ever in your life, locking yourself away with your books all day isn't exactly a recipe for success. Be mindful of how you feel. Staying consistent throughout the semester will be helpful if you want to achieve higher grades. And while a high GPA is important, always remember to include time for people and things you love in your weekly schedule. Whether it's playing a sport, making art, or simply meeting with a friend, find a happy outlet that will anchor you throughout this remarkable odyssey.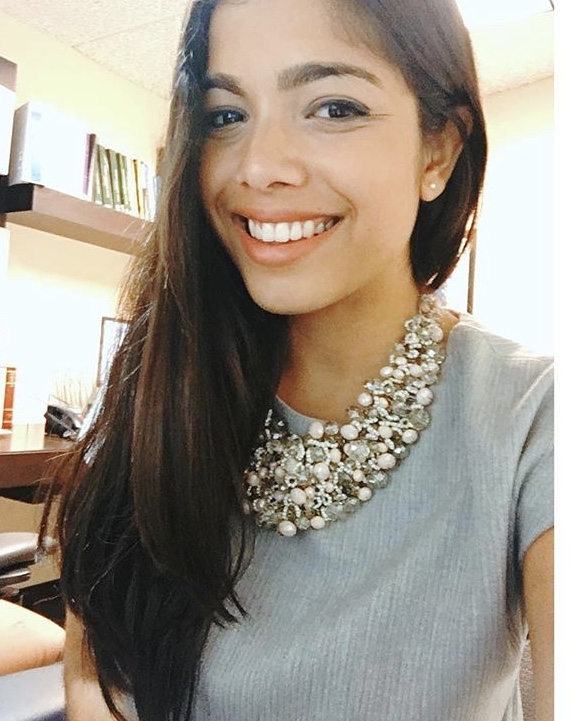 Ana María Báez is a third-year law student and a graduate of communications and political science. She has done freelance content writing for Merodea's lifestyle section and for HerCampus.com. She has a love for all things media and writing; and she has a passion for cooking and yoga.